Sunday Concert Program 2020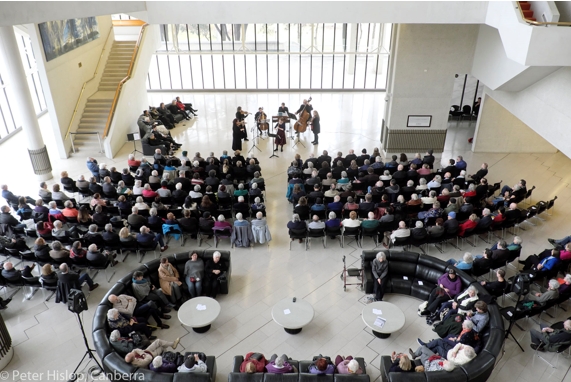 Photograph courtesy of Peter Hislop
COVID-19 Update:
Until further notice the High Court free Sunday concert program has been put on hold. If you wish to receive an email notifying you when the program resumes and to receive updates on concerts and a direct registration link, and please email This e-mail address is being protected from spambots. You need JavaScript enabled to view it
---
Mia Huang - Love from Russia & China
Sunday 19 January 1:30pm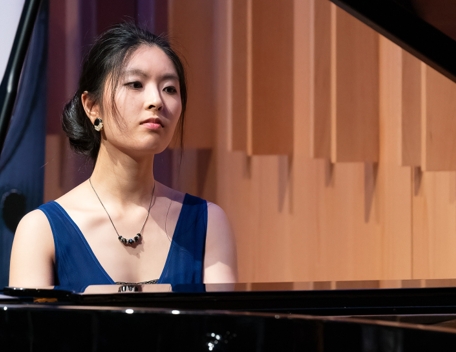 Photograph courtesy of Bradley Cummings
Join concert pianist Mia Huang in an afternoon of colourful musical tales from Russia and China.
Explore the Russian psyche through arrangements of Russian classics by world's leading pianist-composer Vyacheslav Gryaznov, the Romanticism of Tchaikovsky and Medtner, and the war-driven, witty worlds of Shostakovich and Prokofiev.

Mia commenced her piano studies at the age of 4 and graduated from Bachelor of Music (piano performance) at the ANU School of Music ANU in 2019. She was a multiple awards recipient during the course of her studies, and has performed at various Australian and international venues. She is an active performer in solo and chamber music, and recently collaborated in Mozart's Piano Concerto K.453 with members of the Canberra Symphony Orchestra and ANU School of Music. In 2019, Mia participated in the Moscow Conservatory International Summer School in Russia and was invited to perform at the Rachmaninoff Hall, Moscow. The process of digging deep into a piece of music gives her great joy, and she longs to share this joy with others.

For more information and to listen please visit: https://spaces.hightail.com/receive/FfmtkeRDpY/bWlhLmh1YW5nQGFudS5lZHUuYXU=

Duration 60 minutes.
---
Jelena Stojkovic - Roses of East

Sunday 26 January 1:30pm


Photograph courtesy of Marc Senna
Join Pianist Jelena Stojkovic on a musical journey through the diverse cultures of the East. The concert opens with Romanticism and one of its most prominent Russian representatives, Nikolai Rimsky-Korsakov and his Scheherazade, followed by a foray to Maurice Ravel and his impressionistic sound worlds. With works by Marko Tajcevic and his Seven Balkan Dances, Jelena Stojkovic draws connections to Serbia and interprets the contemporary sounds of contemporary composers: the German Dorothea Hofmann, who dedicated her compositions inspired by old Serbian songs to pianist Jelena Stojkovic (premiere); Arno Babajanyan from Armenia, Miroslav Štatkic from Serbia and Fazil Say from Turkey – the brilliant conclusion of a concert program that creates bridges between celebrated works of the past and the flowing compositional development of the present.
The transcultural exchange of music is of great importance to pianist Jelena Stojkovic, who studied at the conservatories in Belgrade, Munich and Augsburg. During the last few years she has made successful appearances as a soloist and as a member of the Animando – Klaviertrios, the Bayerischen Philharmonie and the Quartett Quattro per Due (two pianos and two percussion instruments), which focuses on contemporary music. Her social commitment is evident in her concerts at the German Week of Culture in Cairo and the European Weeks in Passau. She is also a member of the multinational quartet Quattro per Due and the trio Contrasts, performs in international chamber music projects for transcultural understanding and gives solo concerts. She lectures at the Leopold Mozart Centre of the University of Augsburg and, since 2016, conducts Serbian Orthodox Church choir Sveti Jovan Vladimir in Munich.
For more information please visit: http://www.jelena-stojkovic.com
Duration 60 minutes.
---
Phoenix Collective - Ye Olde England

Sunday 9 February 1:30pm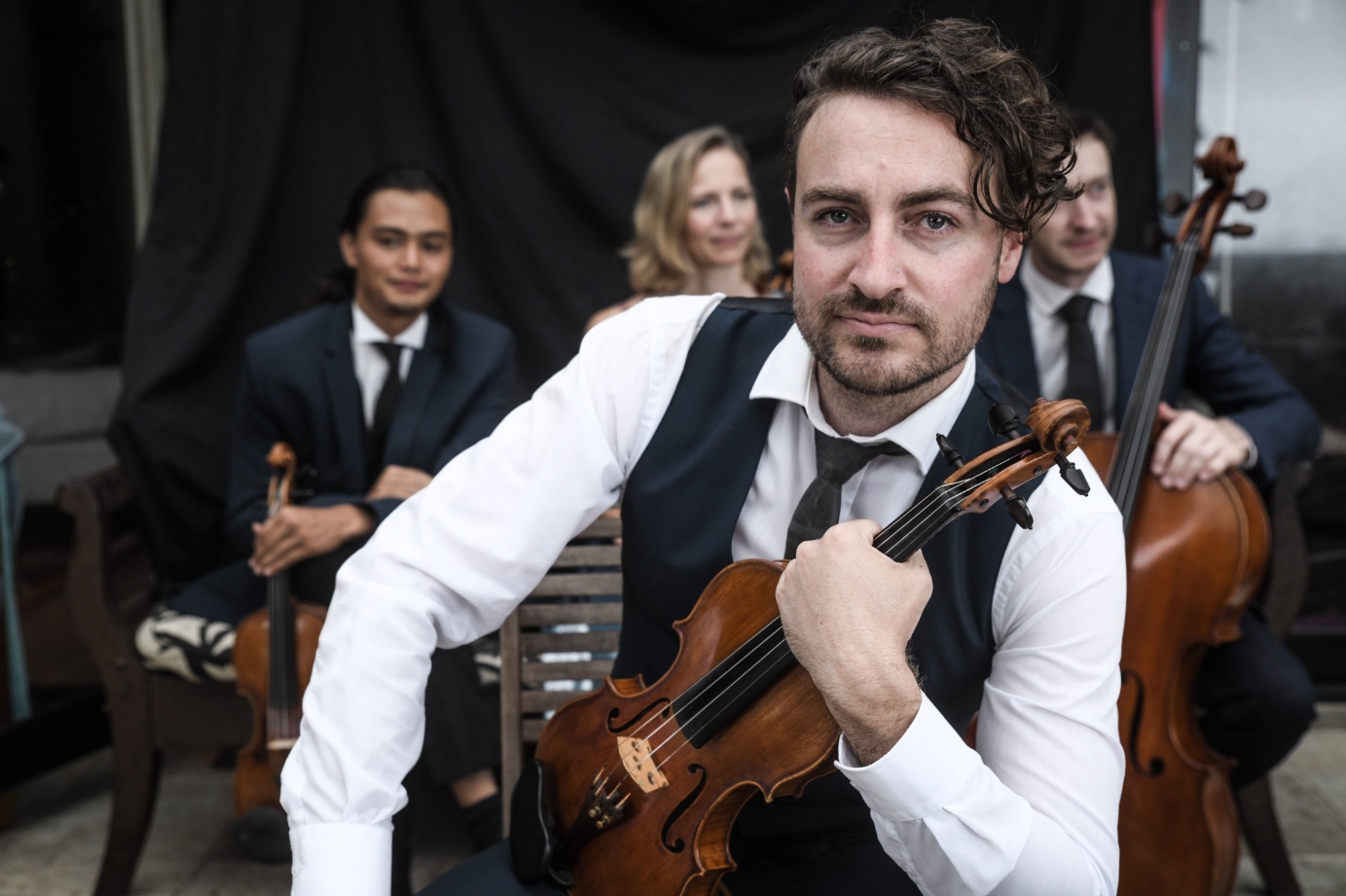 Photograph courtesy of Phoenix Quartet
Pianist Dr Edward Neeman (Juilliard School/ ANU) teams up with Violinist, Dan Russell (Artistic Director, Phoenix Collective) for a recital from Ye Olde England. Calm, restful works evoking scenes of lush green pastures and mother England. Violin and piano sonatas by Delius and Elgar pave the way for one of the most exquisite works in the violin repertoire, The Lark Ascending by Ralph Vaughan Williams, a work based on English poet, George Meredith's famous poem.
The Australian-American pianist Edward Neeman has performed across five continents. Critics have lauded him as a "true artist" with "an excellent technique" who "isn't afraid to put a distinctive stamp on whatever he touches, without resorting to mannerism." A top prizewinner of numerous international piano competitions, including first prize in the Joaquín Rodrigo Competition in Madrid, Dr Neeman has appeared as a soloist with the Prague Philharmonic, Sydney Symphony, Melbourne Symphony, Kentucky Symphony, Symphony of Northwest Arkansas, and the American West Symphony among others.
For more information please visit: https://phoenixcollective.com.au/artists
Duration 60 minutes.
---
Eleanor Greenwood & Colleen Rae-Gerard - Of Life & Love

Sunday 19 July 1:30pm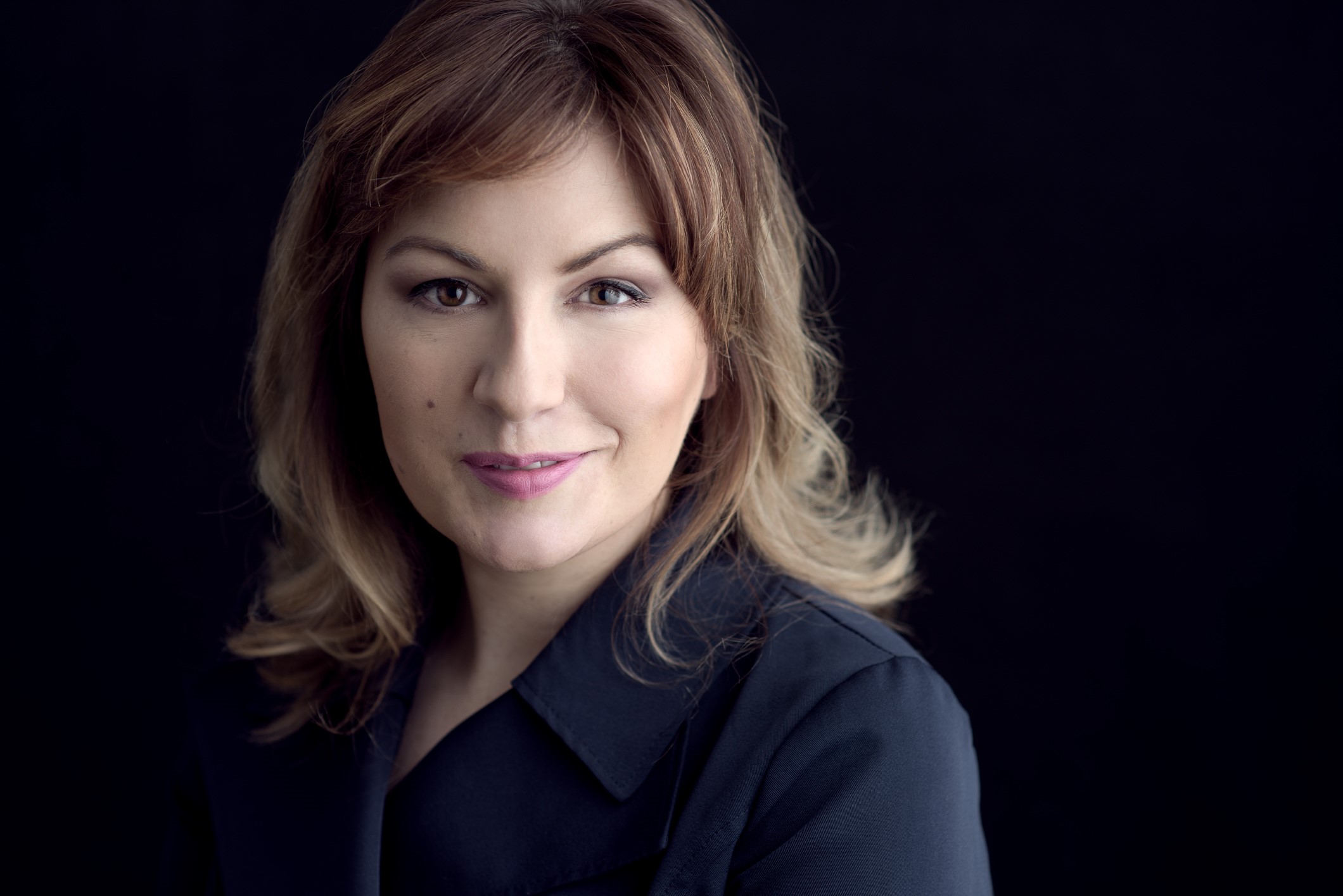 Photograph courtesy of Simon Pauly

Lose yourself in the lush romance of German art song. Join award-winning artists Eleanor Greenwood and Colleen Rae-Gerard on a journey through some of the most celebrated songs ever written for voice and piano by master composers Richard Strauss, Richard Wagner and Gustav Mahler.

Eleanor Greenwood has sung on stage and on radio, in London, in the UK, in Europe, in Australia, and throughout China. A graduate of London's Royal Academy of Music Opera School, and of the Australian National University, she has performed various roles and concerts, and is a winner of the Sydney Eisteddfod Opera Scholarship Competition.

Colleen Rae-Gerard - Born in New Zealand and trained by a pupil of Artur Schanbel before studying in Europe with Paul Badura-Skoda and Karl Ulrich Schnabel, Colleen has had a long career as a concert pianist in both New Zealand and in Australia. Colleen also established De La Tour Opera - a touring opera company in New Zealand.

For more information and to listen please visit https://www.eleanorgreenwood.com/

Duration 60 minutes.
---
Spina & Benignetti Piano Duo - Fantasy and Imagination

Sunday 2 August 1:30pm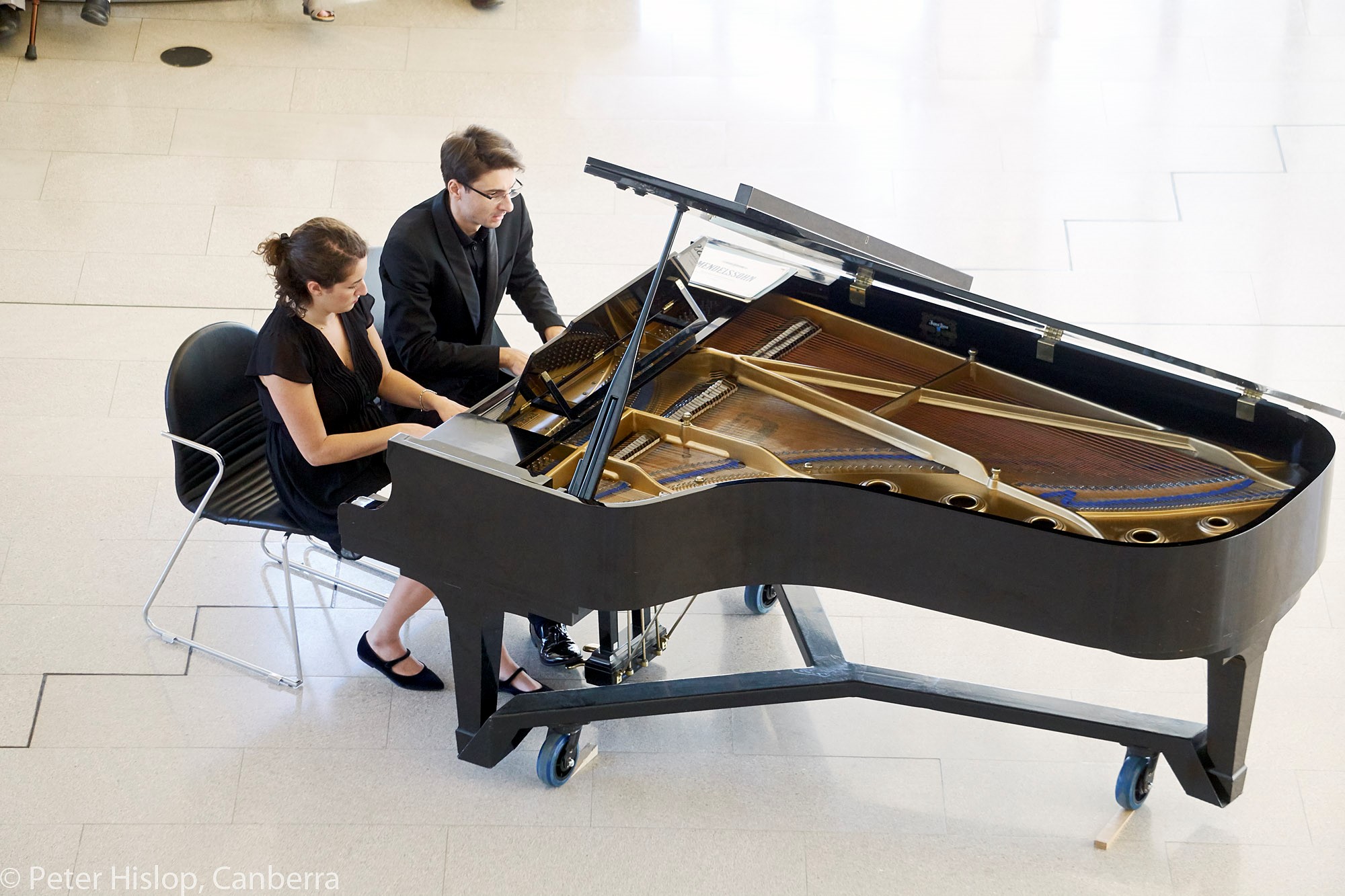 Photograph courtesy of Peter Hislop

Eleonora Spina and Michele Benignetti are two compelling, talented young musicians that come from strong and varied backgrounds as soloist and chamber musicians. For this concert they have created a landscape of wonder and fantasy with excerpts from Schubert's Fantasia D940 in F minor, Mendelssohn's Midsummer Night's Dream and Ferruccio Busoni's Melodie Finlandesi op 27.

The recital is completed by two beautiful "Melodie" composed by the Italian virtuoso Ferruccio Busoni inspired by traditional Finnish Songs and four pieces by the French composer Camille Saint-Saëns, that with intimacy and lightness are a real treat of the composer's ouvre.

Eleonora Spina and Michele Benignetti's partnership as a piano duo began in 2013 and immediately received positive acclaim. In June 2014 they received the prestigious Diplôme Supérieur d'Exécution at the Ecole Normale de Musique Alfred Cortot in Paris. Their latest album Lifetime was released in January 2017 by the Sheva Collections label. For this recording the duo received the Gold Medal as Best Album and Best Emerging Artists at the 2017 Global Music Awards in California, one of the biggest prizes in discography. Michele and Eleonora are currently studying under the guidance of professors Sivan Silver, Gil Garburg and Igor Roma. The piano duo Spina - Benignetti is an Official Yamaha Artists.

For more information please visit: https://www.spinabenignetti.com/

Duration 60 minutes.
---
Andrew Blanch - In Recital

Sunday 9 August 1:30pm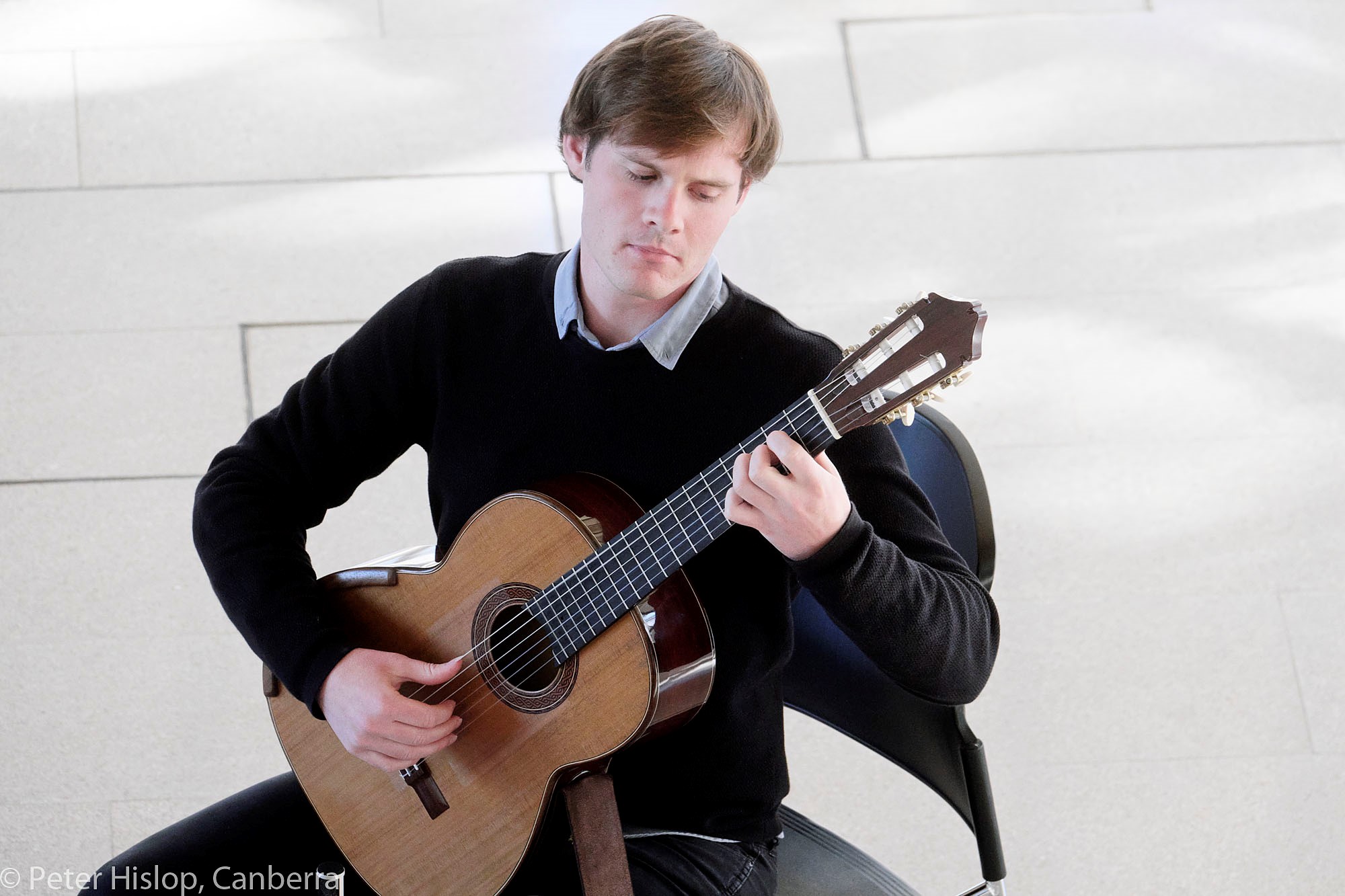 Photograph courtesy of Peter Hislop

Andrew's 2020 classical recital brings together two themes of interest: Latin-American guitar music, and the canonical classical compositions of Europe - in particular those of Italy. While at first glance a concerto by Italian Baroque master Antonio Vivaldi, and the folkloric songs and dances of Venezuela may not appear related, similarities in musical style and construction run deep and can be traced back to the European colonisation of Latin America that began with Italian explorer Christopher Columbus' landfall in the Bahamas in 1492.

Featuring music by Antonio Vivaldi, Francisco Tarrega, Agustín Barrios, Mario Castelnuovo-Tedesco, Astor Piazzolla and others, this will be an uplifting and varied recital with moments of melancholy, brilliance and everything in between.

Andrew Blanch is a rising star on the Australian classical music scene. He recently claimed first prize in the 2019 Adelaide International Guitar Competition, is a 2019 Freedman Fellowship nominee and is signed to release his first album on ABC Classics in 2020. Andrew is a frequent collaborator with leading Australian singers and instrumentalists and is featured on the cover of the October issue of Limelight Magazine in an article entitled 'Thirty young Australian musicians destined for greatness'.

For more information please visit: http://www.andrewblanch.com/

Duration 75 minutes.
---
Handel in the Theatre - St Matthew Passion by Heinrich Schutz

Sunday 30 August 1:30pm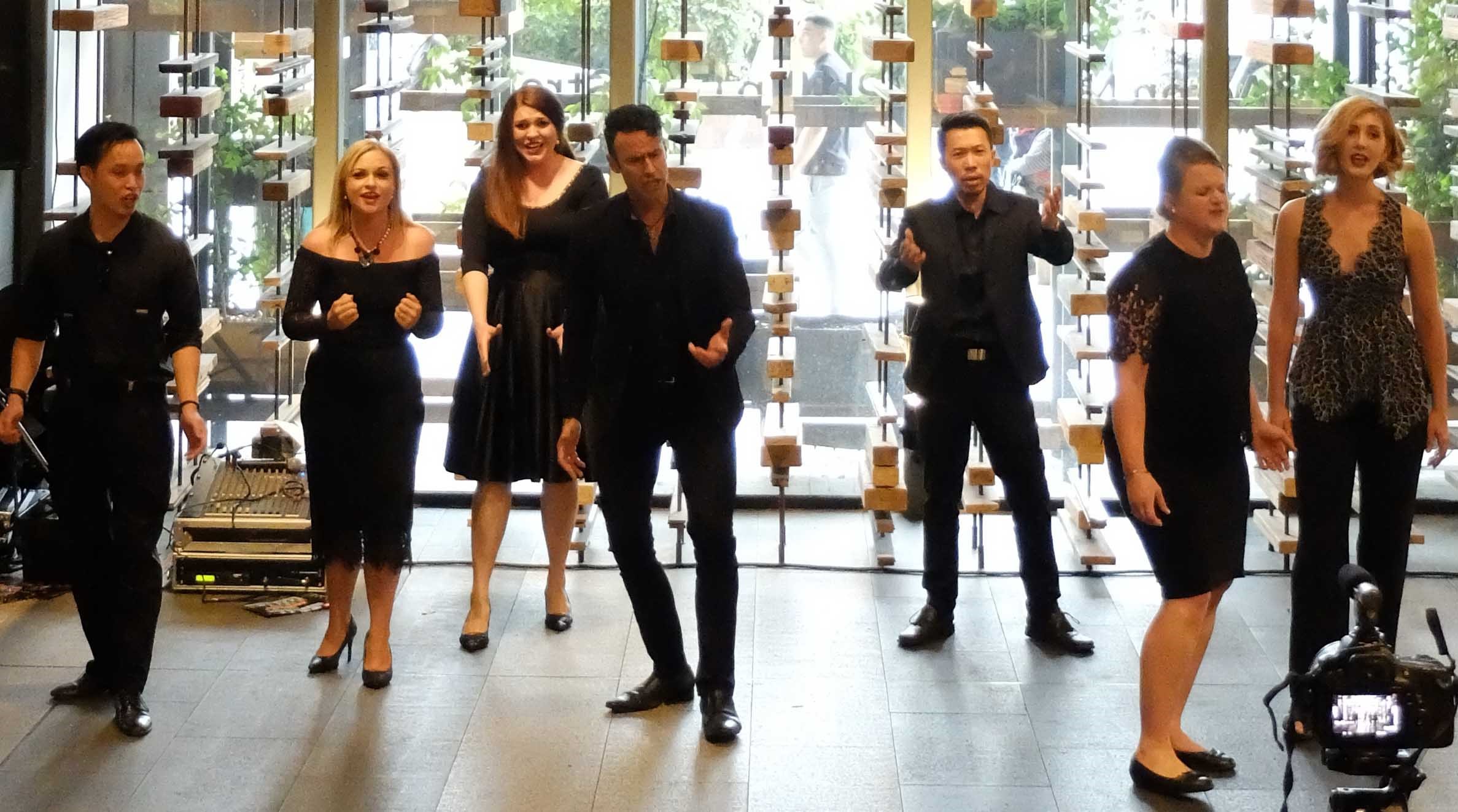 Photograph courtesy of Hou Leong

Join Handel in the Theatre as they bring to life the beauty of Heinrich Schütz's St Matthew Passion. Written when Schütz was 80 years old, this mature, a cappella work tells the story of the last days of Jesus' life through sinuous, plainchant-like melodies and simple yet exquisite choruses.

Handel in the Theatre's performed adaptation will allow audiences to fully experience the hypnotic power and dramatic storytelling of Schütz's masterwork.

Generally regarded as the most important German composer before Johann Sebastian Bach Heinrich Schütz is credited with bringing the Italian style to Germany and continuing its evolution from the Renaissance into the Early Baroque.

For more information please visit: http://www.handelinthetheatre.com.au/

Duration 60 minutes.
---
Canberra Strings - High Five

Sunday 6 September 1:30pm


Photograph courtesy of Peter Hislop

Canberra Strings present a concert of string quintets, combining two of the most beloved works in the genre. Luigi Boccherini's Night Music in the Streets of Madrid is a programmatic work which takes its inspiration from nocturnal street scenes of Madrid, portraying all the bustle of Spain's capital. It depicts the sound of the city's church bells ringing for evening prayer, popular dances, and the blind beggars singing their typical street songs until the soldiers from the local garrison sound the midnight curfew with their Retreat. Already well-known in Boccherini's lifetime, the quintet came to prominence more recently in the 2003 film Master and Commander.

Franz Schubert's String Quintet in C major is one of the best-known works for the quintet combination of two violins, viola and two cellos. Written in 1828, it was Schubert's last chamber work, and was completed just two months before his death. The first public performance of the work did not take place until 1850, after which it was widely admired by other composers such as Brahms. With its sublime slow movement and brilliant use of the instrumental combinations available, the quintet is generally recognised as one of Schubert's finest chamber works.

Canberra Strings is a group of Canberra professional string players who are dedicated to the performance of chamber music. Featuring former TSO concertmaster Barbara Jane Gilby as first violinist, the group also includes CSO players Pip Thompson, Lucy Carrigy-Ryan, Samuel Payne and Julia Janiszewski. The group has performed as part of Hotel Hotel's Strings in the Salon series, as part of the Tuggeranong Arts Centre's Twilight series and at Wesley Music Centre, including a concert of clarinet quintets in 2018 with Critics Circle winner Eloise Fisher. Their performance of Strauss and Schoenberg at Wesley Church last year received a Critics Circle award.

For more information please visit: https://www.facebook.com/canberrastrings

Duration 65 minutes.
---
Eliza Shephard Flute - Vision 2020

Sunday 27 September 1:30pm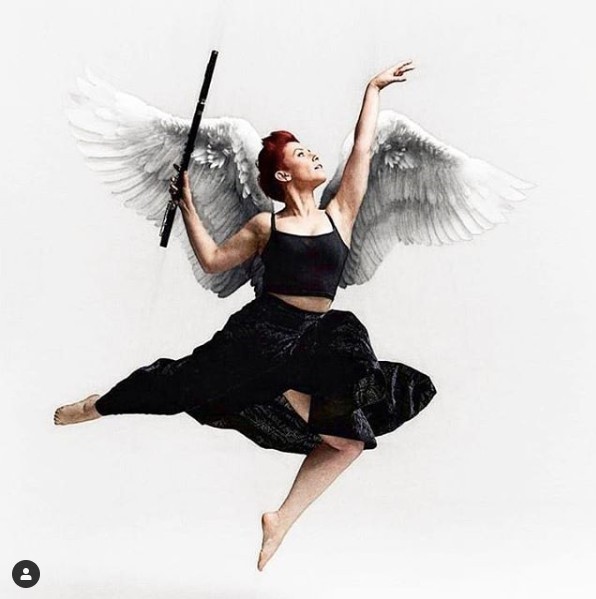 Photograph courtesy of Mark Lobo

The flute is an ever-developing instrument that continues to encourage and inspire musical artists to explore and be curious about its possibilities. Join rising flute star Eliza Shephard as she breaks down the walls of flute repertoire, and explores a vast array of works written by Australian and international composers.

Vision 2020 takes the audience on a journey through stories, emotions, and personal challenges, flipping the preconceptions of the flute upside down. Journeying from Bach's well-known Toccate e Fugue BW565 arranged by Italian composer Salvatore Sciarrino, through to works commissioned by Eliza Shephard for the Glissando Headjoint - a mechanism designed to enable the flute to smoothly pitch bend, Blue Silence by Elena Katz-Chernin (Aus), Three Beats for Beatbox Flute - Greg Pattillo (USA) and the world premiere of Konstantin Koukias' The Case of the Colourblind Painter (Aus) - this concert will be sure to inspire curiosity into the future of the flute.

For more information please visit: http://www.plexuscollective.com/eliza-shephard

Duration 60 minutes.
---
Australian Youth Orchestra - AYO Young Symphonist in Concert

Sunday 4 October 1:30pm
Join Australian Youth Orchestra (AYO) Young Symphonists for an afternoon performance under the baton of conductor Peter Moore. AYO Young Symphonists has become one of AYO's pivotal pathways in the development of young instrumentalists aged 12–17 years. Come and experience the next generation of orchestral talent as they ignite their musical imagination and perform a selection of exhilarating classical works.

The Australian Youth Orchestra (AYO) has a reputation for being one of the world's most prestigious and innovative training organisations for young pre-professional musicians. AYO provides training pathway to nurture the musical development of Australia's finest young instrumentalists across metropolitan and regional Australia: from the emerging, gifted, school-aged student, to those on the verge of a professional career.

For more information please visit: https://www.ayo.com.au/content/ayo-young-symphonists/gk8ed5?permcode=gk8ed5

Duration 90 minutes.
---
ANU Chinese Classical Music Ensemble - A Pear Blossom on the East Wind

Sunday 11 October 1:30pm
Enjoy the many genres and ancient history of Chinese music as the ANU Chinese Classical Music Ensemble enchant you with music across Chinese genres including sizhu ("silk and bamboo") music from Jiangnan – the area south-east of the Yangtze River, qupai ("named tunes" from opera) and folk dance melodies. Experience ancient classical pieces, some of which are literally thousands of years old, as well as modern melodies on Chinese instruments including the unique sound of the guzheng (horizontal zither), erhu (two-stringed fiddle), pipa (four-stringed fretted lute), ruan ("moon" guitar), dizi (horizontal bamboo flute with membrane), xiao (vertical flute) and daji (percussion). It has been said that while Western music has focussed on developments in harmony, Chinese music has focussed on melody, resulting in beautiful music.
The ANU Chinese Classical Music Ensemble has been charming Canberra audiences for the past 15 years with fine performances of Chinese music. Ensemble members are drawn from students and staff at the ANU and from the wider Canberra community.
Duration 60 minutes.
---
ANU Chamber Choir & Trumpet Club - Sacred and Choral Music

Sunday 25 October 1:30pm
Enjoy the exhilaration of hearing the ANU Chamber Choir joining the Trumpet Club to bring to life Thomas Tallis's "crowning achievement" of English Early music Spem in Alium. The vast space of the High Court will provide the amphitheatre for the soaring beauty of sacred and choral music. Two forces of nature, Tobias Cole with the ANU Chamber Choir and Zach Raffan with Trumpet Club ignite the passion and spirit embodied in its powerful traditions. The eternal light of the magnificence will once again be with us.

For more information please visit: https://www.facebook.com/canberratrumpetclub/

To listen: https://www.youtube.com/watch?v=Kqbjr2R0vXk

Duration 60 minutes.
---
The Black Mountain Piano Quarter - A Tour Through Time

Sunday 8 November 1:30pm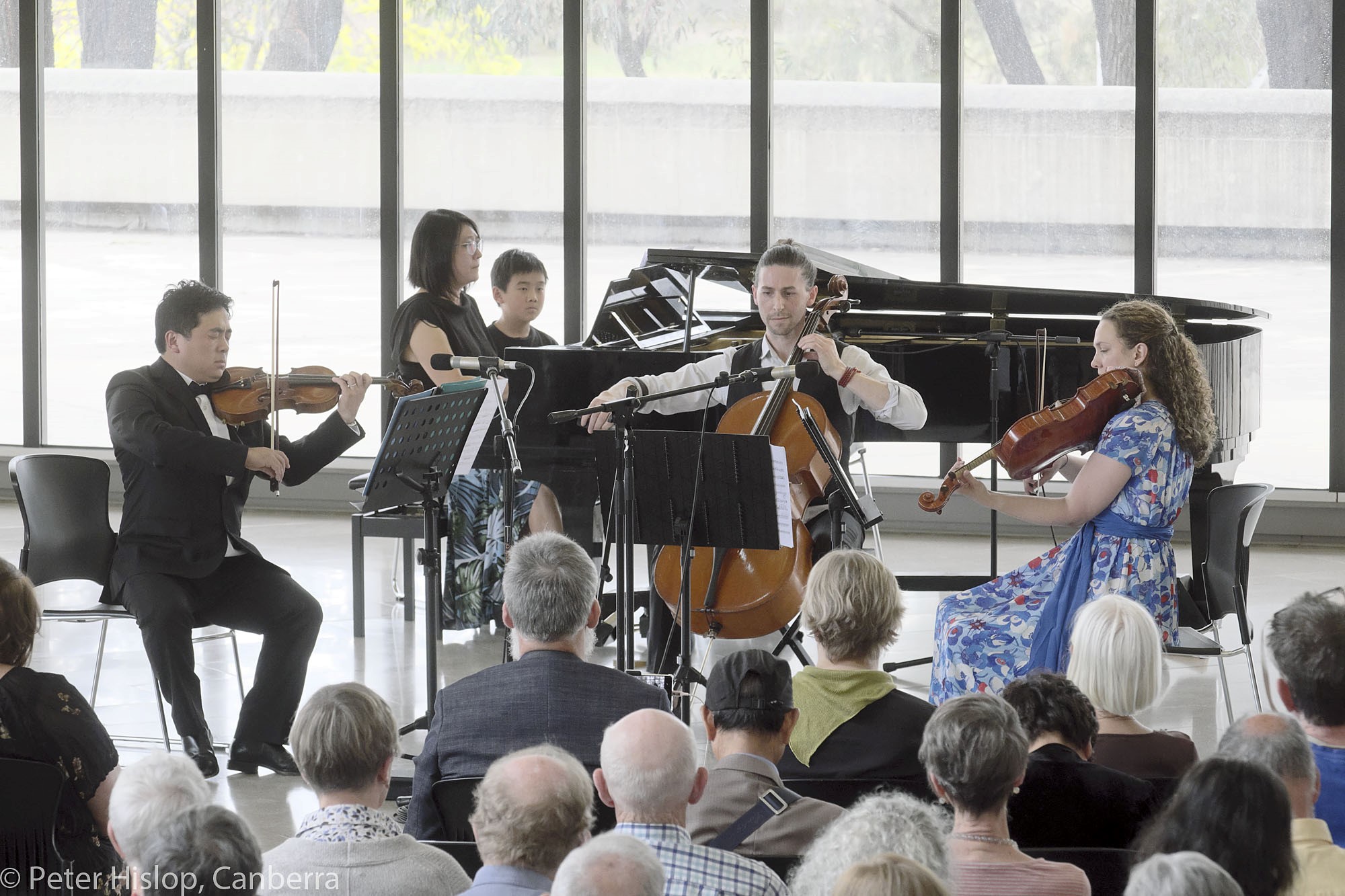 Photograph courtesy of Peter Hislop

The Black Mountain Piano Quartet returns to the High Court in 2020 with "A Tour Through Time", where the audience will be taken on a journey through a selection of chamber music from classical to contemporary composers, exploring all the colours and textures in the piano quartet repertoire.

Jason Li (Violin): having spent his formative years in Auckland, New Zealand, Jason has performed with the Auckland Youth Orchestra, and he has been a member of the National Capital Orchestra in Canberra since 2007. He has also performed in the Die Fledermaus and Cosi Fan Tutte productions with Canberra Opera.

Thayer Parker (Viola): originally from Urbana, Illinois, USA, Thayer received a Bachelor in Music Performance from the University of Illinois at Urbana Champaign. Thayer began her career playing with a number of orchestras in Illinois, including the Champaign Urbana Symphony, Sinfonia da Camera, Kankakee Symphony, Prairie Ensemble, and Illinois Symphony.

Alex Moncur (Cello): born and bred in Canberra, Alex attended ANU School of Music, was a member of the Canberra Youth Orchestra. He was principal cellist in Canberra Opera's productions of Die Fledermaus and Cosi Fan Tutte.

Kathleen Loh (Piano): kathleen graduated with a Bachelor of Music from the Australian National University. She has been the musical director/répétiteur for Canberra Opera since 2015, and has directed and performed in its productions of La Bohème, Suor Angelica, Die Fledermaus, and Cosi Fan Tutte.

For more information please visit: https://www.facebook.com/TBMPQ/

Duration 60 minutes.
---
Limestone Consort - Music of the Season

Sunday 29 November 1:30pm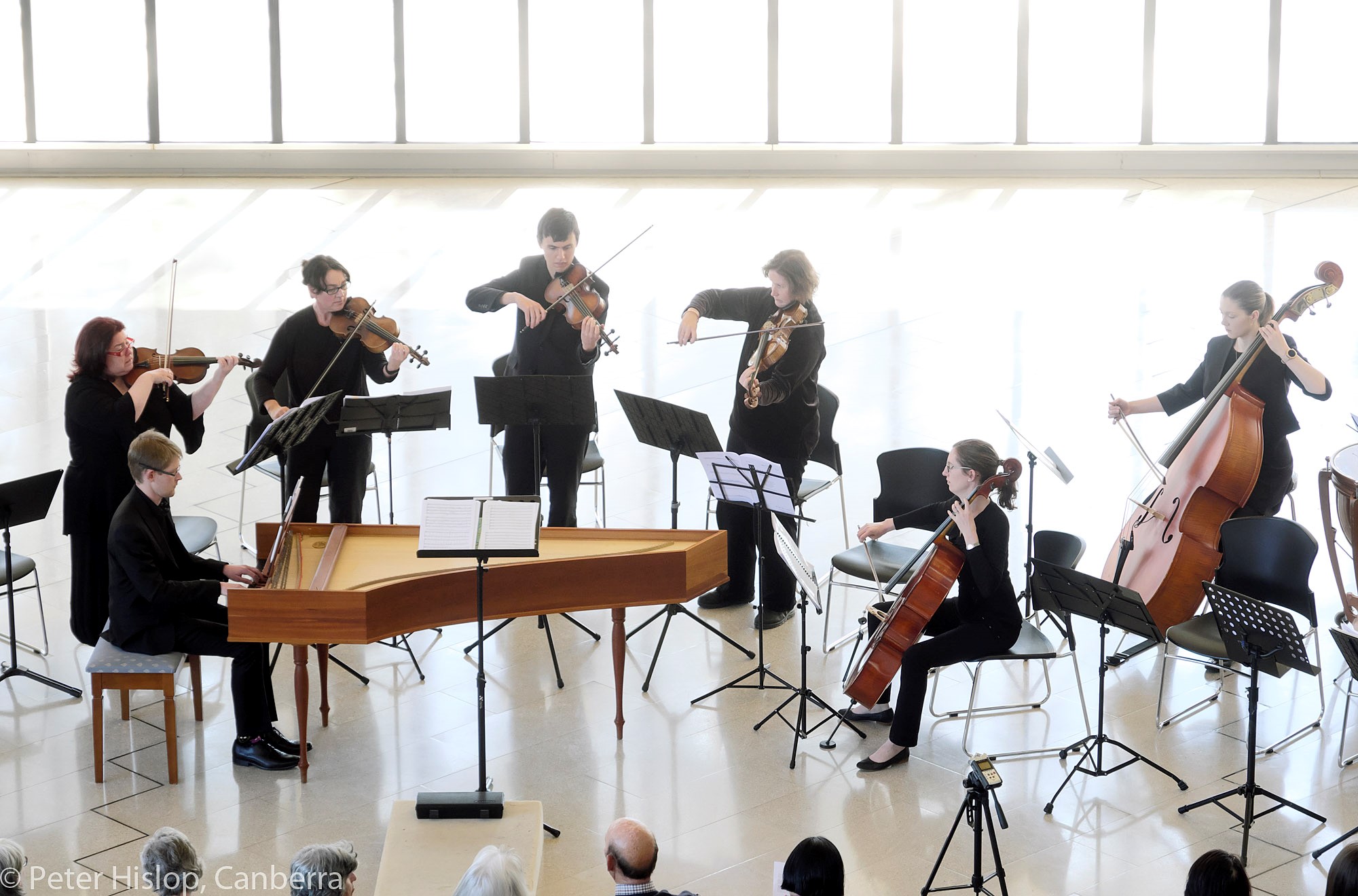 Photograph courtesy of Peter Hislop

In this concert the Limestone Consort, along with soprano Greta Claringbould, will present a feast of Italian baroque music associated with the Christmas season. Performed on period instruments at A415, the program will include cantatas by Antonio Vivaldi and Alessandro Scarlatti as well as concerti grossi popularly known as 'Christmas concerti' by Manfredini, Locatelli and Corelli.

Limestone Consort is a chamber ensemble based in Canberra, which formed in 2012 out of a desire to perform baroque music. We enjoy performing all periods of music and our players are both professional and semi-professional musicians.

For more information please visit: https://www.facebook.com/Limestoneconsortcanberra/

Duration 75 minutes.
---
Christmas Concert - Featuring Canberra Community Chorale and Rhythm Syndicate

Sunday 13 December 1:30pm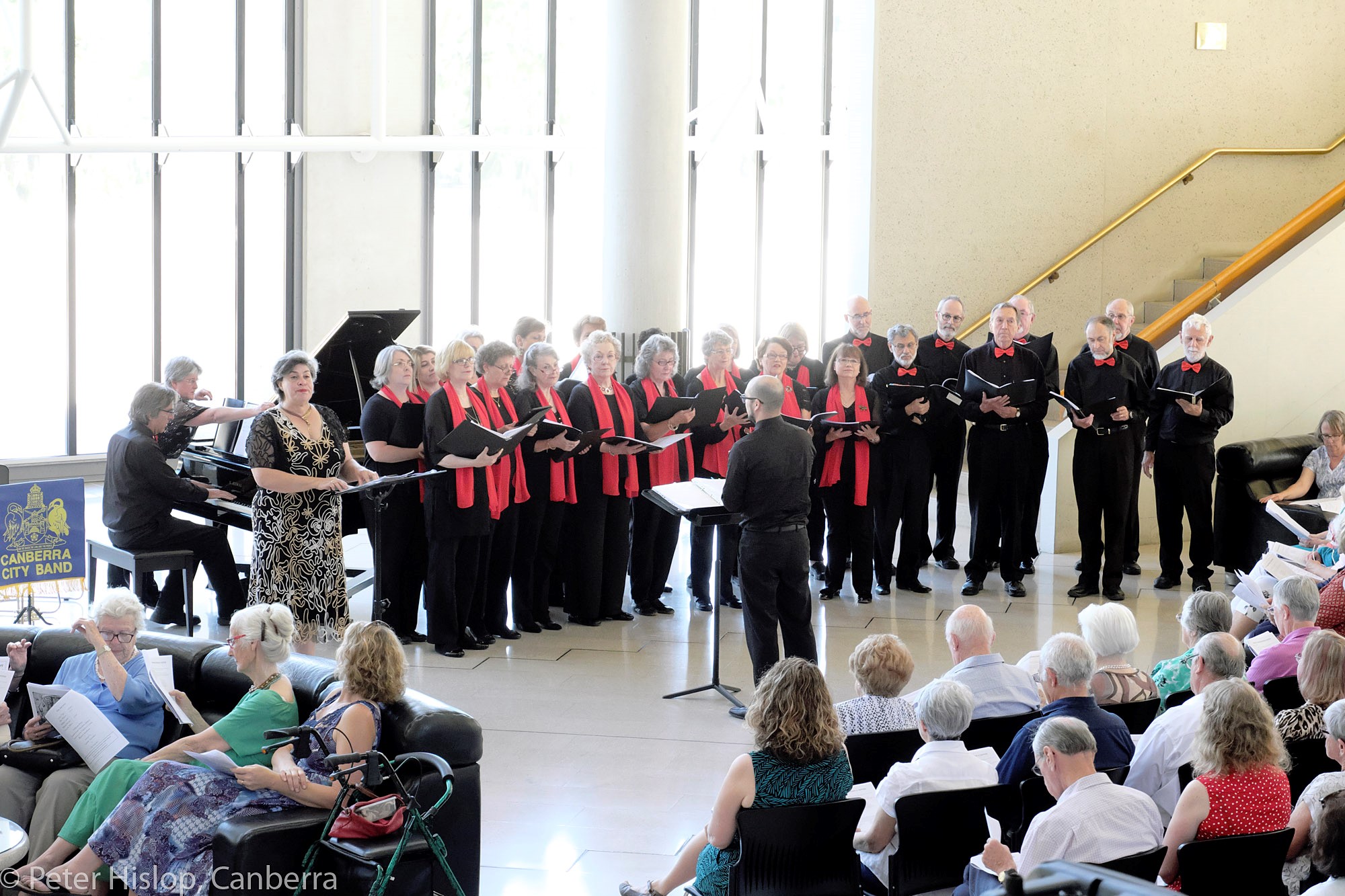 Photograph courtesy of Peter Hislop
Once again, we celebrate the forthcoming Christmas season with a variety of familiar and rarely heard carols and seasonal music in a program devised and performed by the Canberra Community Chorale, directed by Dan Walker and Rhythm Syndicate along with soloists and guest musical artists. Organised, as in previous years, by Helen Moore, the concert promises to be a heart-warming embrace of the Christmas season.
This concert is so popular that admission is strictly by ticket only. No tickets at the door.
Duration 90 minutes.
---