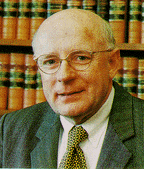 (born 9 October 1942)
William Montague Charles Gummow AC was appointed to the Court in April 1995. At the time he was a judge of the Federal Court of Australia. He had held that office since 1986.
He graduated from the University of Sydney as a Bachelor of Arts and Master of Laws. After 10 years in practice as a solicitor, he was admitted to the New South Wales Bar in 1976. He was appointed a Queen's Counsel in 1986. For 30 years he lectured part-time at the University of Sydney. He is the author and editor of several texts on equity and trusts. Justice Gummow AC was appointed a Companion in the General Division of the Order of Australia in 1997.