The High Court building is one of Canberra's major tourist attractions and is situated in the Parliamentary Zone in Parkes Place Parkes, on the shores of Lake Burley Griffin between the National Science and Technology Centre (Questacon) and the National Gallery of Australia. The High Court-National Gallery precinct was added to the National Heritage List in November 2007.
The building is a unique structure. Forty metres tall and constructed mainly of concrete and glass, it has four main elements: a large public hall, three courtrooms, an administrative wing, and Justices' chambers. Public visitors may view:
the Great Hall, which includes an educational display and video area, and often features exhibitions or performances by cultural organisations; and
the three courtrooms, which are the focus of the building's activities.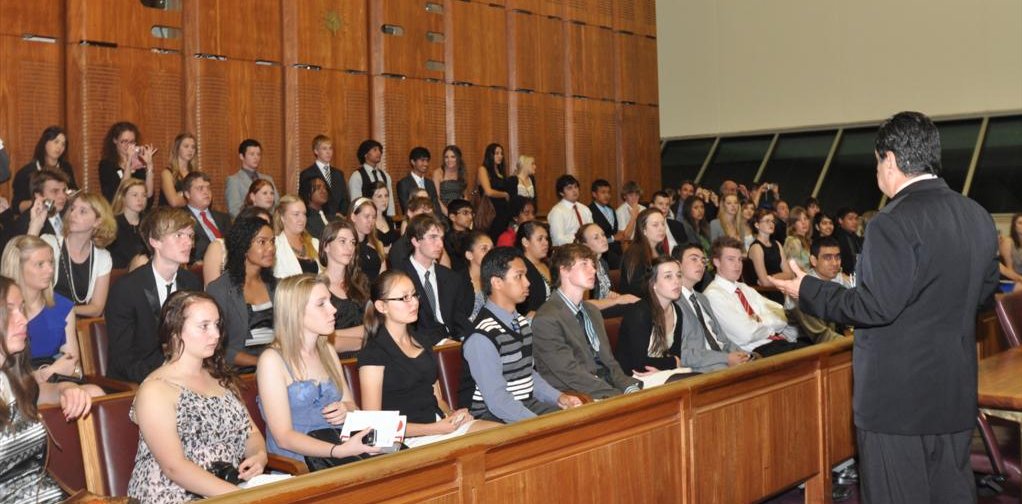 Court Guides are on hand to introduce you to history, role and operation of the High Court and its building.
Please check the Court calendar before planning your visit. If the Court is sitting, you are welcome to watch proceedings. We request your cooperation in respecting Court etiquette when watching proceedings.
The building is surrounded by parkland which provides an ideal venue for lunch on fine days. Many school groups bring their lunch and enjoy it on the shores of the lake.
Court Sittings and Building Opening Hours
The calendar of Court sittings is determined by the Court and is usually published in the September prior to the start of each year. See the Court Calendar.
Normally, the Court sits in Canberra for two weeks of every month, except for January and July when it is in recess. High Court sittings are open to the public. Normal Court sitting hours are from 10.00 am to 12.45 pm and 2.15 pm to 4.15 pm.
The building is open to the public from 9.45 am to 4.30 pm Monday through Friday, except public holidays, and Sundays from midday to 4.00 pm. Admission to the High Court building is free of charge.
As a result of the COVID-19 outbreak, please note that the High Court Building is presently closed on Sundays.
When you visit the High Court we request your cooperation in respecting Court etiquette and Building Conditions of Entry.

Booked tours
Bookings are essential for groups of visiting school students or other organised tours. Please visit our tour bookings page to access the online booking system, risk assessment and insurance certificate.
Independent visitors do not need to make a booking.
Talks by Court Guides
Visitors are welcome to visit the building at any time during ordinary opening hours. A Court Guide is available in each courtroom to provide information about the history, role and function of the High Court and its architecture. On sitting days, visitors are welcome to view the sitting Court.
Please consult the Court calendar for the sitting schedule. TEST2