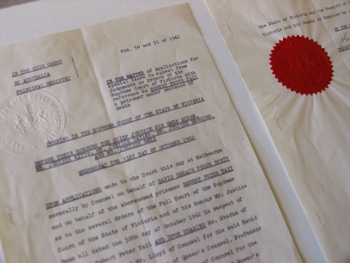 These are some commonly used precedent forms which are available to download as pdf or rtf documents. The High Court of Australia makes every effort to ensure that all the forms on this site are up-to-date. If you use a form from this web site, it is your responsibility to ensure that it is in the current format.
Prescribed Forms for matters commenced prior to 1 January 2020
A complete list of prescribed forms is available at Schedule 1 of the High Court Rules 2004.
Form 1 - Notice of constitutional matter (PDF 10k) (RTF 33k)
Form 1A - Notice of intervention (PDF 10k) (RTF 67k)
Form 2 - Judgment (PDF 10k) (RTF 32k)
Form 3 - Order (PDF 10k) (RTF 23k)
Form 4 - Consent (PDF 9k) (RTF 32k)
Form 7 - Notice of appearance (PDF 9k) (RTF 31k)
Form 8 - Submitting appearance (PDF 9k) (RTF 32k)
Form 9 - Conditional appearance (PDF 9k) (RTF 32k)
Form 12A - Response to application for constitutional or other writ (PDF 59k) (RTF 89k)
Form 18 - Response to application for removal (PDF 10k) (RTF 74k)
Form 21 - Summons (PDF 9k) (RTF 61k)
Form 23A - Response to application for leave or special leave to appeal (PDF 10k) (RTF 74k)
Form 25 - Notice of discontinuance (PDF 9k) (RTF 31k)
Form 27A - Appellant's submissions (PDF 14k) (RTF 79k)
Form 27B - Appellant's chronology (PDF 10k) (RTF 75k)
Form 27C - Intervener's submissions (PDF 11k) (RTF 82k)
Form 27D - Respondent's submissions (PDF 12k) (RTF 80k)
Form 27E - Reply (PDF 11k) (RTF 75k)
Form 27F - Outline of oral argument (PDF 10k) (RTF 75k)
Form 28 - Bill of costs (PDF 20k) (RTF 79k)
Other forms - Fees
Party category form (PDF 42k) (RTF 658k)
Application for exemption from filing and hearing fees (PDF 36k) (RTF 622k)
Application to pay the financial hardship fee (PDF 87k) (RTF 870k)
Other Forms - Example documents
Example Affidavit (PDF 18k) (RTF 95k)
Legislative Provisions coversheet (PDF 10k) (RTF 42k)
Example reply for special leave, removal and Constitutional Writ applications (PDF 9k) (RTF 81k)
Other forms - Appeals
Example Index for Joint Book of Authorities (PDF 53k) (RTF 180k)
Certification for Joint Book of Authorities (PDF 9k) (RTF 65k)
Form 27A - Appellant's submissions (PDF 14k) (RTF 79k)
Form 27B - Appellant's chronology (PDF 10k) (RTF 75k)
Form 27C - Intervener's submissions (PDF 11k) (RTF 82k)
Form 27D - Respondent's submissions (PDF 12k) (RTF 80k)
Form 27E - Reply (PDF 11k) (RTF 75k)
Form 27F - Outline of oral argument (PDF 10k) (RTF 75k)