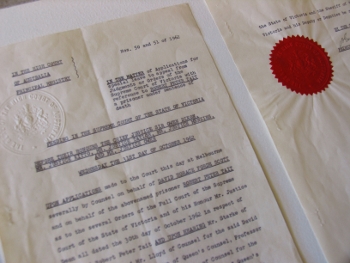 These are some commonly used precedent forms which are available to download as pdf or rtf documents. The High Court of Australia makes every effort to ensure that all the forms on this site are up-to-date. If you use a form from this web site, it is your responsibility to ensure that it is in the current format.
Prescribed Forms for matters commenced after 1 January 2020
A complete list of prescribed forms is available in the High Court Amendment (Electronic Filing and Other Matters) Rules 2019.
Form 1 - Notice of constitutional matter (PDF 10k) (RTF 75k)
Form 1A - Notice of intervention (PDF 10k) (RTF 75k)
Form 2 - Judgment (PDF 10k) (RTF 72k)
Form 3 - Order (PDF 10k) (RTF 72k)
Form 4 - Consent (PDF 9k) (RTF 73k)
Form 7 - Notice of appearance (PDF 9k) (RTF 73k)
Form 8 - Submitting appearance (PDF 9k) (RTF 73k)
Form 9 - Conditional appearance (PDF 9k) (RTF 73k)
Form 12 - Application for constitutional or other writ (PDF 13k) (RTF 89k)
Form 12A - Response to application for constitutional or other writ (PDF 12k) (RTF 87k)
Form 17 - Application for removal (PDF 14k) (RTF 88k)
Form 18 - Response to application for removal (PDF 10k) (RTF 82k)
Form 20 - Writ of summons (PDF 12k) (RTF 84k)
Form 21 - Application (PDF 9k) (RTF 73k)
Form 22 - Election Petition (PDF 12k) (RTF 83k)
Form 23 - Application for leave or special leave to appeal (PDF 14k) (RTF 77k)
Form 23A - Response to application for leave or special leave to appeal (PDF 10k) (RTF 82k)
Form 24 - Notice of appeal (PDF 11k) (RTF 79k)
Form 25 - Notice of discontinuance (PDF 9k) (RTF 70k)
Form 26 - Notice of cross-appeal (PDF 12k) (RTF 80k)
Form 27 - Notice of contention (PDF 10k) (RTF 80k)
Form 27A - Appellant's submissions (PDF 13k) (RTF 83k)
Form 27B - Appellant's chronology (PDF 9k) (RTF 80k)
Form 27C - Intervener's submissions (PDF 10k) (RTF 86k)
Form 27D - Respondent's submissions (PDF 11k) (RTF 80k)
Form 27E - Reply (PDF 9k) (RTF 80k)
Form 27F - Outline of oral argument (PDF 9k) (RTF 80k)
Form 28 - Bill of costs (PDF 19k) (RTF 110k)
Form 31 - Application for leave to issue or file (PDF 10k) (RTF 81k)
Other forms - Fees
Application for exemption from filing and hearing fees (PDF 36k) (RTF 732k)
Application to pay the financial hardship fee (PDF 87k) (RTF 870k)
Other Forms - Example documents
Example Affidavit (PDF 16k) (RTF 101k)
Legislative Provisions coversheet (PDF 9k) (RTF 49k)
Example reply for special leave, removal and Constitutional Writ applications (PDF 9k) (RTF 81k)
Example Forms - For appeals
Example Index for Core Appeal Book - Criminal (PDF 15k) (RTF 105k)
Example Index for Core Appeal Book - Civil (State) (PDF 15k) (RTF 99k)
Example Index for Core Appeal Book - Civil (Federal) (PDF 16k) (RTF 110k)
Example Index for Core Appeal Book - Migration (PDF 16k) (RTF 109k)
Example Index for Joint Book of Authorities (PDF 53k) (RTF 180k)
Certification for Joint Book of Authorities (PDF 9k) (RTF 72k)
Form 27A - Appellant's submissions (PDF 13k) (RTF 83k)
Form 27B - Appellant's chronology (PDF 9k) (RTF 80k)
Form 27C - Intervener's submissions (PDF 10k) (RTF 86k)
Form 27D - Respondent's submissions (PDF 11k) (RTF 80k)
Form 27E - Reply (PDF 9k) (RTF 80k)
Form 27F - Outline of oral argument (PDF 9k) (RTF 80k)
Example indexes for special leave and removal applications
Example civil special leave application book index (PDF 18k) (RTF 104k)
Example criminal special leave application book index (PDF 18k) (RTF 109k)
Example removal application book index (PDF 15k) (RTF 85k)
Example civil migration special leave application book index (PDF 18k) (RTF 108k)